"David's Story with Photos" consists of eight webpages connecting my life after 1963 with the NWP. They start with a prologue before I arrived in  Africa. Also, "David's Story" includes narratives about other places where I lived in these years, illustrated by hundreds of photographs. These places included Syracuse University (NY), Kenya and now New York City (NYC). You can use the menu on the left to see these webpages or click any (green) link below:
Very fond personal memories of the NWP. It is said that "old" people remember the past better than the present. I find this to be true, as will many of my "old" friends from the NWP. Looking back, I have no doubt that the years from 1963-1983 were the most creative and certainly the most adventurous and exciting in my whole life despite endless stresses and strains that  came partly from the creativity element and partly from just living in the NWP in this eventful era. As I look back, I certainly remember the wonderful hospitality and kindness of many people throughout the NWP. Hence, this website is a gift to the people of the NWP and Zambia.
Addendum and very personal note by David: I had my 75th (diamond) birthday several years ago on 23rd March 2014. In the next year, while recovering from three major surgeries (noted in passing elsewhere), I asked myself what I most wanted to do with the freedom of my retirement. Hanging out in NYC's excellent senior centers quickly bored me and charitable work also has its limits. Hence I mulled over Fred Morton's –as well as other friends' — repeated admonitions about updating my research and writing again on the NWP and Zambia. As noted on my Acknowledgement page, NYC's wonderful research facilities were perfect for reviewing and updating my NWP research. Certainly I no longer have any academic ambitions. Nor do I wish to write a static book or even a journal article, neither of which can be updated, and are generally not widely available in Zambia, and above all, are soon outdated. While I doubted that at my age that I could create my own website, I have completely surprised myself! I take all credit and blame for the design and writing found herein.
Celebrating my 75th  birthday on 23 March 2014 (Brooklyn Botanical Gardens)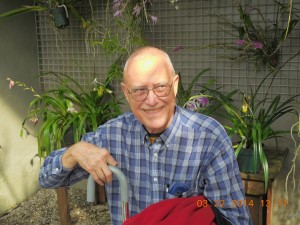 Photographs are still being added to the sub-pages that follow. Should anyone dislike their photograph(s) being used just let me know.