The five subpages under this major webpage contain Paul David Wilkin's academic writings; all free to download and use. This major webpage also contains reviews of, and information about, many academic associates. 
This major webpage introduces five CRUCIAL subpages

:
E-Book: To the Bottom of the Heap: Educational Deprivation and its Social Implications in the Northwestern Province of Zambia, 1906-1945
This e-book title is the same as that of the original dissertation. Either can be freely used by anyone. 
Two identical current e-book versions (Word and pdf) contain new information both for scholars and all all others interested in the NWP's history. This e-book may be updated in the future. Anyone has the option of downloading a Word version or viewing a pdf version. Should you cite the e-book, include the date of the update (currently March 2014).
Click the following green link to

download

the

Word version

of the e-book: E-Book March 2014
Click the following green link to

view

online the

pdf version

of the e-book: E-book March 2014
1983 Dissertation [same title]
I strongly recommend that scholars use the latest version of the e-book. Still, here is a link to a pdf copy of my entire 1983 dissertation, whose title is the same: "To the Bottom of the Heap: Educational Deprivation and its Social Implications in the Northwestern Province of Zambia, 1906-1945."  (This link is to the University of Zambia's pdf copy that I gave them years ago.) Again, I suggest scholars use the new e-book: dissertation at UNZA.
=============================
An Annotated Bibliography of Selected Books, Articles and Dissertations focusing on the NWP from 1983-2014 was added to this page in 22nd August 2014. One page, of this four page bibliography, reviewed Prof. Pritchett's recent work on Mwinilunga, which is arguably the best book written on any part of the NWP in recent years. (At the end of this Bibliography is a copy of Google's description of Pritchett's book.) Although this Bibliography has been removed because it  became outdated, a copy may still be downloaded: click this green download button.  Bibliography of recent works
=========
Links to current academic materials: books, websites, etc.
Brethren Archivist and Historians Network (BAHN) Website: http://brethrenhistory.org/home.htm
Recent book about Zambia by Pamela Shurmer-Smith, entitled "Remnants of Empire: Memory and Northern Rhodesia's White Diaspora": Remnants of Empire
Dissertation on Mwinilunga District by Iva Pesa in the Netherlands entitled: "Moving along the roadside: A social history of Mwinilunga District, 1870s–1970s": History of Mwinilunga by Iva Pesa
Three historical Maps of Zambia, the NWP and south central Africa that appear in the E-Book.
Another historical map appears inside the front cover of Dugald Campbell's Blazing Trails in Bantuland (London, Pickering & Inglis, 1933). Campbell was an early Brethren missionary and the map covers "the Beloved Strip" that stretched across eastern and northern parts of Angola into of Northern Rhodesia and the Congo. This region was (and still is) a major focus of Brethren missionary activity. Eventually it will be placed in an updated  version of the e-book with the three above.
Dugald Campbell's Blazing Trails in Bantuland (1933)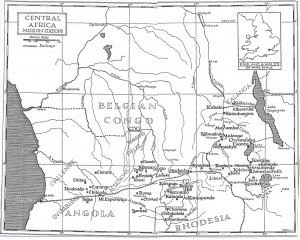 Another academic publication by David Wilkin, "Refugees and British Administrative Policy in Northern Kenya, 1936-1938". African Affairs, 1980, 79 (317), pp. 510-530. 
While not about the NWP, this publication may interest a few scholars. You can simply Google the title to find it. If you are a scholar at an academic institution, it will probably be free to acquire. If not, you will either have to pay, as it African Affairs has a copyright, or you write/email as indicated on the last page of this website: "You and I: Should we Connect" and I will send you an author's copy. Direct link: African Affairs
Special invitation to respond. Use the Contact page to send any responses (errors, suggestions, additions, etc.) to this e-book and the whole website: Direct link: You and Me: Should we Connect?