You and Me: Should we connect?
While you may be just casually scanning the web and reading things that interest you about the NWP of Zambia, some of you have a more serious interest and you probably fall into one of these groups:
1) Old secondary students of mine, who like me are now old men(!), or more likely children and grandchildren of those students;
2) Zambians (possibly in, from, or connected with the NWP) with a personal interest; and
3) Scholars world-wide with a focus on south-central Africa, Zambia, and/or the NWP.
Unlike a regular book, which when published cannot be changed or commented on for others, this website (including the e-book) is intended to be a "living," dynamic work.
Thus, this page is where you can make a comment on any thing in the website, suggest useful ideas and materials, or simply get in touch with me and/or old NWP friends and acquaintances. Just email me using the Contact Form below. You can also attach a photograph, or you may

write me

as follows: Paul David Wilkin, 61-15 98th St., #4E, Rego Park, NY  11374, USA.
To start off, I have added a photograph of the late Thomas Samungole (who knew both schools well) in the 1963-1968 period. This photograph was sent in late March 2014 by one of Mr. Samungole's sons.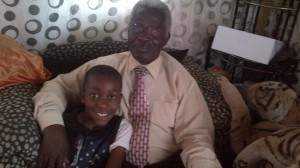 CONTACT FORM